That's right, ladies and gents..those are strawberries..strawberries growing on St. Maarten at the Lowlands Community Garden.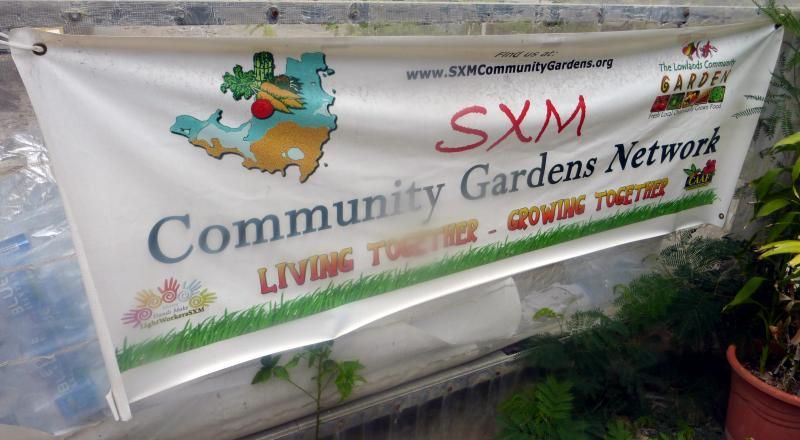 Man, is this a neat place. The gardener and I, and our daughter, Erika, were able to visit there today.
Although it is not open to the public, we were privileged to get a little tour from Elaine, the spirit behind this garden.

The garden is located in the area we call our lowlands, a flat scrubby dry area with sandy soil and mostly unfit for growing much. Through the "miracle" of aquaponics, there is a lot growing in the community garden.
According to their web site,
"Aquaponics is a sustainable food production system that combines aquaculture, which is raising fish in tanks, with hydroponics which is cultivating plants in water. The by-products from the aquaculture are broken down by nitrogen fixing bacteria, then filtered out by the plants as nutrients, after which the cleaned water is re-circulated back to the fish.
The system uses just 10% of the water needed for conventional growing and therefore, is perfect for use in the tropics."


The garden started about a year ago and they are rapidly expanding. They have plans for a second garden to start soon and they are available to aid other communities to start up their own neighborhood community gardens.
Currently they have about 40 members who receive shares regularly of whatever is grown.
The garden is not for profit but rather is a concept of providing local, sustainably-grown produce to the communities of Saint Martin and Sint Maarten.
And it's all really organic.. NO pesticides!
To find out about CSA membership please send an email to csa@lowlandscommunitygarden.com

Their web page is chock full of information and I suggest you take a look.
http://lowlandscommunitygarden.com/

Here are some pictures of what we saw today. As I said, pretty neat!


Tags:

Latest Month
October 2014
S
M
T
W
T
F
S
1
2
3
4
5
6
7
8
9
10
11
12
13
14
15
16
17
18
19
20
21
22
23
24
25
26
27
28
29
30
31